I have always had a preference for the colors green and blue. My apartment is a palate of neutrals and verdant shades. Peek in my closet and the story is quite similar...until recently. For reasons unknown, I have recently gravitated toward pink. I think it all started with a pair of champagne colored flats. Then came the softest, most wonderful magenta t-shirt. Followed by a blush camisole, a rose adorned tank top, carnation and gray plaid pajama pants, and fuchsia running shoes. Enjoy a rosy round-up!
Currently sportin' this electric
pink
on my toes.
Rose is a classic scent, but many rose perfumes venture into Meemaw land. Not this
one
. The combination of rose and bergamot oil is fresh and light.
I've been on the lookout for a new summer weather pajama set. This menswear inspired
set
from J.Crew is a great balance of classic and comfortable.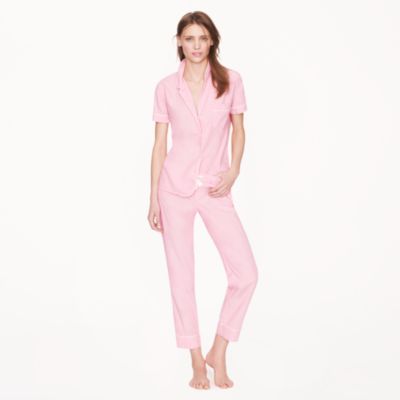 Olivka Chrobot
models
sophisticated pink tresses.
This
print
by Yellena James.
This lady makes regular appearances on my running playlist. She is a not-so-guilty-pop-pleasure, in fact I think she is down right bad-ass.
What has you tickled pink lately?